FitFlop
midsoles incorporate patent-pending
micro-wobbleboardTM technology, to give you a workout while you walk
. Developed by Darren James and Dr David Cook at LSBU, the FitFlop's unique safely -tapered midsole places varying densities of EVA under your feet each time you step, to challenge the support and balance muscles of the foot and leg.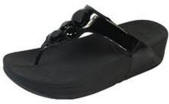 Due to the impact reduction, people have also reported relief from plantar fasciitis, hip, knee and back pain due to these remarkable shoes.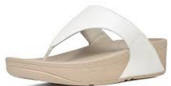 We have a variety of styles of Fitflops in our store ranging from the Lulu White to the Lunetta black and colors in between. Feel great on your feet and are good for your body. What else could you ask for!