Z-CoiL is an amazing shoe that reduces the impact by 50% taking all of that shock from your feet, legs, knees, hips and back. Many times, pain related issues are caused by the impact that shoots up through your skeletal system with each step you take. By reducing the shock, you can reduce the inflammation and the pain.
When you try a pair of Z-CoiL Pain Relief Footwear on, you will experience the great pain relief qualities that Z-CoiL has built their reputation on! Come on in and pick up one more pair of those tried and true shoes you have come to love. You will be glad you did.
Remember, the relief you get from Z-CoiL is best experienced if they are custom fit in an authorized Z-CoiL distributor. Buying them online will not insure that they are adjusted appropriately for your particular need and in some cases can cause more harm than good. Also, we do charge a fitting fee if you purchase the shoe online so please keep that in mind.
Styles range from athletic shoes like the Liberty (in all black, Gray or White/Navy):
Hiking Boots like the Outback: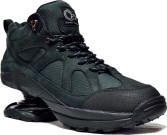 Or casual, all leather oxfords like the Legend:
Dress shoes and sandals are also available, such as the SideWinder Sandal:

or the Sofia: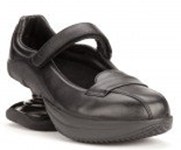 More styles are available so stop on in and try a pair on today. You will be glad you did! For more information about Z-CoiL Technology, click here.