Discontinued Joya Footwear - $175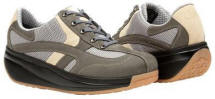 We have a large selection of discontinued Joya footwear that we have obtained from another dealer and are selling them at a fantastic price Several different styles are available but not all sizes are available in all styles. Check out our website for additional information.

---
SideWinder Sandal for Men $149



Z-CoiL has discontinued the SideWinder Sandal for men only. Normally, this shoe is $229 but for a limited time, we can offer it to you for $149! That's is a 35% savings just in time for the hot weather. It has two adjustable straps to fit almost any width foot. This is a special order item for us so if you would like a pair, let us know and we will order it for you. We do stock it for women but it is at the $229.95 price. Sorry, ladies!

---
Somnio Shoes $70

We originally posted these at $100 then $75 now we are down to $70! Normally,

these shoes were $150, so this is over 50% off! We do have the parts to customize the shoe for your particular need and they really are comfortable. Not all sizes are available and limited to stock on hand. So, come on in and check them out! We have other styles than what is pictured here.
---
Oetzi 3300 shoes - $50!
We have carried the Oetzi 3300 for several years and have sold many pair because of

the incredible arch support that is built in to the shoe. OetTZI3300 is very unique in that it is made with oiled suedes and canvas with an insulating yet breathable stretch inner sock liner, and a cork footbed designed for comfort that gradually mold to the individual footscape. They also contain a gel insert in the heel for impact reduction with every step. The antimicrobial cork footbed combined with the soft suede or canvas cover provides an unparalleled walking experience. They use no glue in their shoes and also are part of a project that is working to provide financial assistance to the Arthritis foundation.
We are currently carrying the Classic tan suede and the black and white canvas styles but have decided to phase them out. A truly remarkable shoe at a great price, I am sure you will love the feel when you get them on your feet. If you like the feel of Birkenstock, you will absolutely love the Oetzi. Normally $115-$135, you can't get a better shoe at this price. For more information on Oetzi, click here.
---